Umi Hotel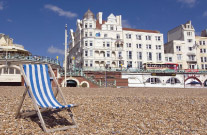 Located on the seafront, access is possible with assistance. However, there are no adapted rooms.
Opening Times: 24 hours every day in a week.
Telephone: 01273 806 087
Website: umihotelbrighton.co.uk/
Contact name: The manager
Costs:
Please contact the venue.
Getting in and around
Level access:
There is a separate accessible entrance on the seafront road with a doorbell for access. The entrance is narrow and there is a 4" step just inside. The doors open inwards and assistance would probably be required for customers using a wheelchair or mobility scooter. There is a lift to all floors.
Facilities/Accommodation
Accessible Toilets: Yes.
Rooms Available: Inside the bedrooms, the door-frame width to the bathrooms are too narrow for wheelchairs. Guests would need to be able to walk short distances.
Heading Loop: Yes
Getting There
Parking Details:
Umi is situated right on the seafront, extremely close to Brighton town centre, the famous Brighton pier and the bustling Lanes. Parking is available at the Russell Road NCP Carpark on the other side of the main road. Customers can pull in at the front of the hotel to drop-off bags, but it is not a designated or official "drop-off" area.
Drop Kerbs:
N/A.
64, Kings Road Brighton
BN1 1NA
s

My Experience
The entry level area of the hotel, including the bar area and conference room, is all flat and accessible. There is good natural light. There is an accessible toilet on the entrance level with a full length mirror at the correct height. There is one step down to the accessible toilet and a ramp is available from reception (however it is a little steep). Check it is secure before use. All stairs and steps are marked with white lines. There are not any ground floor rooms. There is a lift to all levels, although it is only big enough for a very small mobility scooter or standard sized wheelchair. The hotel has hearing loops and a fire-alarm suitable for those with hearing or visual impairments. The bar area is pleasant with moveable seating and the bar is of average height. The staff are very happy to carry drinks and provide assistance. There is an accessible restaurant with a wide flat entrance, moveable chairs and an accessible toilet. Menus available in large print. The restaurant is bright and light during the day with large windows to the promenade. Clear colour contracts between the walls and floor. Really lovely, helpful staff who treated us very kindly whilst completing the review. Very keen to be of as much assistance as possible.
Call ahead
The manager
01273 806 087