Stoneham Park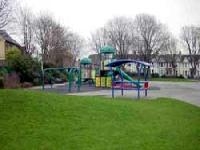 A very popular green space, designed so that children can play safely and with lots of separate patches this little park makes big use of its available space. This park is a real gem and well worth a visit.
Opening Times: 11am-4pm over winter.
Telephone: (01273) 771386
Costs:
N/A
Getting in and around
Level access:
Yes - The park is bounded by high railings, and is gated, though the gates are sometimes left open. There is level access to the cafe.
Facilities/Accommodation
Accessible Toilets: No - The nearest accessible toilet is at the Hove Museum and Art Gallery.
Rooms Available: N/A
Heading Loop: No
Getting There
Parking Details:
There is some parking in the side streets, and this is on a pay-and-display tariff.
Drop Kerbs:
Yes.
Stoneham Park, Stoneham Road, Poets Corner, Hove
BN3 5FS
o

My Experience
There's an inner area, also fenced, which is laid out for football. It means that the children can play footie without losing the ball or disturbing younger children. There are two childrens play areas, one for the younger ones and one for slightly older children. There's also a garden area with benches and meandering paths. The focal point for this park is an amazingly friendly community cafe. There's easy access through large patio style doors and a very helpful welcome. There's an outdoor seating area as well as indoor seating. There's a 'no dogs' policy which is great because it creates a lovely environment for children and families to relax in.