St. Richard's Church and Community Centre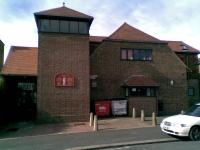 The Church and Community Centre is on Egmont Road, close to Portslade station. The community centre was built around the original 1930s Church Hall. The centre hosts meetings as well as offices of Rethink and the Hangleton and Knoll project. The centre is used by a wide range of Community groups including SASH, Carousel and Buzz, as well as parent and toddler groups. There are extensive noticeboards advertising events and groups in the area.
Opening Times: Reception open Monday to Friday 9am-4pm
Telephone: 01273 414483
Email: pat.weller@btconnect.com
Contact name: The Manager
Costs:
Rates for room hire are available on request from the centre manager
Getting in and around
Level access:
The main hall and church have level access. There is a moderate slope up from the road to the entrance. There are two metal gates at the entrance to the centre - one is generally wide enough but they can both be opened if necessary. There are then double doors which pull outwards and are fairly heavy - the doors are quite wide. The community centre is reasonably accessible. Once inside, all ground floor facilities can be accessed without any trouble. Staff are welcoming and more than happy to help. There is a stairlift to access the computer suite on the first floor.
Facilities/Accommodation
Accessible Toilets: Yes - There is an accessible toilet on the ground floor - this is of reasonable size with grab rails at an appropriate height. The toilet area has been painted a deep shade of blue on the advice of some visually impaired users of the centre.
Rooms Available: No
Heading Loop: Yes
Getting There
Parking Details:
Free on street parking is available, although the roads are quite narrow and there are not always dropped curbs nearby. There is space for a couple of cars outside the centre but these are not disabled spaces and so quite hard to get into and there is limited space at the side of the car.
Drop Kerbs:
No
St Richard's Church and Community Centre, Egmont Road, Hove
BN3 7FP
o

My Experience
The Community Centre is relatively spacious - doors leading between areas are quite wide, and some of the smaller doors are partitioned and can be open wider. There are two rooms which can be hired out for meetings and other activities. The main hall is 27ft by 41ft with a maximum capacity of 80 people. There is a large stage although this is not accessible to someone in a wheelchair. There are two large walk-in storage spaces off the side for the local playgroup (you can access these in a wheelchair if necessary!). The Church is also available as a second hall. This can accommodate 60 people. There is an atrium area which can be used for taking refreshments, this is again quite spacious. There is a fairly large kitchen which can be accessed from the main hall via a hatchway. There is also a wide door from the church to the kitchen, which can be unlocked if requested and is wide enough for a wheelchair. There are some lower cupboards although not enough space to get a wheelchair under the sink. The first floor of the centre is home to the computer suite (with eight computer terminals) as well as offices of the Hangleton and Knoll project, Hakit computer training and Rethink. There is also a small kitchen upstairs. There is a small stairlift up to the first floor with a weight limit of 150kg. It is not really suitable for someone in an electric wheelchair so I was unable to see upstairs. However I spoke to David, who works for Hakit computer training about the facilities upstairs. He mentioned that there are four laptops with wireless available which can be taken downstairs for people to use if they cannot get upstairs or use the stairlift. They also have software for partially sighted and blind people to use the computers, but it is best to call ahead to discuss your requirements. A hearing loop is available in both the main hall and the church. A portable hearing loop is also available. I found the staff at the centre enormously helpful and very welcoming, and more than willing to make adjustments to ensure everybody can access the facilities.