St. Philip's Church and Hall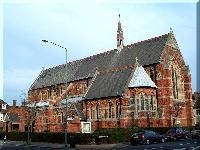 St Philip's Church is situated in New Church Road Hove (on the corner of Richardson Road, Hove). A red brick Victorian Art Deco style Church built on land donated to the Parish by The Duke of Portland.
Opening Times: Times of services: Sunday 08.00 a.m. (finish around 08.30) and 11.00 a.m. (finish around 12.15).
Telephone: 01273 737915
Contact name: Reverend Stephen Terry
Costs:
Please contact the church for further information on room hire costs.
Getting in and around
Level access:
Yes - There is a small lip of 0.5 of an inch to the entrance of the church but it is accessible for most wheelchairs and there is ramped access to the hall. The aisles are wide and there are permanent gaps for wheelchairs within the seating plan. There are two steps up to the area where communion is given, but if the steps are a problem, you can have communion brought to you with no fuss made. The sidesmen, volunteer greeters, are happy to help so just ask for what you want.
Facilities/Accommodation
Accessible Toilets: Yes - accessible toilets and ramped access.
Rooms Available: Rooms are available for hire
Heading Loop: Yes
Getting There
Parking Details:
There is free on-street parking although some bays have restrictions between 10.00 and 11.00a.m.
Drop Kerbs:
Yes
77 New Church Road, Hove
BN3 4BB
o

My Experience
There's a newly installed hearing loop, large print service books and a warm welcome from the whole community. The Church Hall has been recently refurbished as part of a nearby home-building project, and has accessible toilets and ramped access. There is a kitchen for use by community groups hiring the hall, and a stage area. Many local groups use the hall and there is a community group called St Philips Social Club, open to all which has fortnightly meetings which offer tea and cake, and a presentation on a diverse range of subjects from travelling, to alternative health to quizzes and music. The hall is available for hire. Outside, there is a garden area which proves to be a sun-trap complete with wooden benches and strongly scented lavender. The community strive to ensure their buildings are accessible wherever possible and they have a designated access worker who can be contacted to discuss any problems with access. If you prefer not to speak to someone directly, there are leaflets that you can use to leave messages, or someone will contact you if you request it.
Call ahead
Reverend Stephen Terry
01273 737915