St. George's church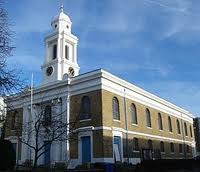 Telephone: 01273 279448
Website: stgeorgesbrighton.org/
Email: info@stgeorgesbrighton.org
Contact name: Fr Andrew Manson-Brailsford
Costs:
Church entrance is free.
Getting in and around
Level access:
There is a central door with steps, and the left-hand door has a small step and a portable ramp for wheelchair access. It is slightly problematic, as the door can't be opened from the outside, but there are definite plans to improve this entrance. The inside is easy to move about in, and as there are no pews, but chairs which can be shifted, it is possible to be flexible and aid access. They are also comfortable which helps if you're in pain. There is a manual wheelchair available.
Facilities/Accommodation
Accessible Toilets: There is an accessible toilet in the crypt, which can be reached by going through the vestry on the left of the altar and descending in the lift. It is then straight ahead. There is also a toilet on the right of the altar, through the door which bears the word Hallelujah above it. A small lobby leads to the actual toilet, which is at right angles, and some people would just be able to transfer (with someone guarding the outer door!)
Rooms Available: N/A
Heading Loop: Yes
Getting There
Parking Details:
Sometimes it is possible to park on the gravel drive in front of the church. There are 2 disabled bays on St. George's road on the opposite corner to the church. There are also some in Sudeley Terrace (at the back of the eye hospital) There is a parking spaces in the streets near the church, but it is pay and display parking.
Drop Kerbs:
The space is not marked, but drop off is available right outside the church.
St George's Road Kemp Town Brighton BN2 1ED
BN2 1ED
o

My Experience
After each morning service there is time to catch up over a coffee (and often cake) and to chat with friends, old and new. If you are new in church or new in town, or would like any help, don't hesitate to ask. The church has 2 roles - as a place of worship and as a concert venue. Church. At church services there are greeters at the door who welcome people in, and would be able to help with any special needs, but if you wanted to seek help before coming you could ring the parish office on 01273 279448. After services there is tea and coffee and socialising. Concert venue. The church has become well known as a concert venue for all types of music. There are pop concerts, world music events, singer/songwriter performances, orchestras, in fact the whole spectrum of music making. (your reviewer sings early music there) It has the dual advantages of comfortable seats and effective heating (which can't be said of all churches!) Any help with access and special needs would need to come from the promoter of the particular concert. It should be possible to find a contact number on their publicity material.