Royal Pavilion Gardens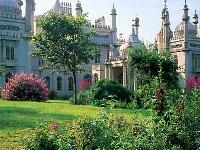 This is quite a small area as parks go, but what an extraordinary location. Originally the private garden of the Royal Pavilion, it is surrounded by historical buildings.
Opening Times: All Year round.
Telephone: 03000 290900
Website: www.brighton-hove-rpml.org.uk/RoyalPavilion/aboutthepalace/Pages/GroundsandGardens.aspx
Email: visitor.services@brighton-hove.gov.uk
Contact name: The Manager
Costs:
The Pavillion Gardens are free.
Getting in and around
Level access:
Yes - Level access throughout. There are lots of entrances, all accessible, and the gardens themselves are mostly flat and easy to get around.Of course there is the Pavilion itself, the Museum and the Dome, and two grand gateways. Probably the nicest way to come in is through Pavilion Buildings, a pedestrian street which leads off North Street, and that will bring you through the South Gate. It was erected in 1921 in memory of Indian Soldiers who fought in the First World War, many of whom were housed in the Pavilion when it was used as a hospital.
Facilities/Accommodation
Accessible Toilets: Yes - The public toilets on the south side have disabled facilities and you'll need a radar key, although there are often attendants on hand.
Rooms Available: No.
Heading Loop: No
Getting There
Parking Details:
There are no on-site parking facilities in the Royal Pavilion grounds and parking around the Royal Pavilion and in the city is limited. Nearby in Church Street there are some disabled parking bays. There are also four disabled bays in New Road, on the west of the gardens. This looks like a pedestrian only road but you can drive along it to park. You enter from Church Street and you must park in the marked area only (this does not look like usual parking spaces - you need to park over a metal wheelchair symbol sunk into the pavement) and leave via North Street. There is an NCP car park about half way up Church Street, plus one in Churchill Square.
Drop Kerbs:
Yes.
Royal Pavilion Gardens, Brighton
BN1 1EE
c

My Experience
The gardens themselves were redesigned this century to try to restore them to their Regency form, and have become increasingly more attractive and interesting, with curving pathways and unusual plants. The lawns are full of people on a sunny day, and there is deckchair hire in summer. Don't miss the narrow stretch on the east side of the Pavilion where you can see stunning views of that building. A recent addition by one of the New Road entrances is a statue of Max Miller. The outdoor cafe on the west side, has been operating for 65 years. It is a great place to meet, and to sit and enjoy the ambience as well as the refreshments, and is renowned for its rock-cakes. There is often music here and entertainment, and other parts of the garden have buskers too.