Resource Centre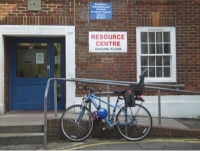 The Resource Centre provides a range of equipment for hire and services to support community groups in Brighton and Hove. While it can be tricky to get to, the facilities inside are reasonably accessible.
Opening Times: Tuesday to Friday: 9am-4pm.
Telephone: 01273 606 160
Website: www.resourcecentre.org.uk
Email: info@resourcecentre.org.uk
Contact name: The manager
Costs:
Please contact the Resource Centre for further information about their services and costs.
Getting in and around
Level access:
Yes. There are two steps with a hand rail, with a permanent, easy gradient ramp alongside. There is a very wide front door to the building, followed by another wide door to the centre itself. The doors are not heavy.
Facilities/Accommodation
Accessible Toilets: Yes. There is a reasonably sized accessible toilet at the centre, with left-hand transfer and grab rails. There is some clutter in the toilet and boilers in the corner, but it is large enough for this not to be a problem.
Rooms Available: No.
Heading Loop: No
Getting There
Parking Details:
There are two disabled parking spaces outside the centre, on a moderate slope. There is also space for taxis to drop off. Shared pay & display and residents parking bays along one side of Tilbury Place is availabe and there is a NCP car park at the bottom of Carlton Hill.
Drop Kerbs:
No.
Prior House 6, Tilbury Place Brighton
BN2 0GY
o

My Experience
The Resource Centre is not very big, but there is space to get a wheelchair around. There is an open plan reception/computer area with 4 computers that can be used. The computer desks are at a standard, fixed height. A laptop is also available and people are also able to use their own laptops on the resource centre's wi-fi connection. I asked about assistive technology on the computer and while this is not currently available the manager said that this could be discussed with the individual where necessary. The printing room houses the printers, photocopiers, laminating machines, etc. All of the machines are at wheelchair height and there is plenty of room to move around all the tales to get to each machine. The equipment room stores all manner of equipment for groups, from PA sound systems to candy floss machines. The room is quite spacious and there is plenty of room for a wheelchair user to get round. The Resource Centre is very well laid out to maximise access and it is clear that a lot of thought has gone into layout. Staff were very helpful and eager to hear from disabled people on their experiences of the centre. There is a huge amount of information available, both in hardcopy at the centre and their website, to help individuals setting up and running groups.