Radisson BLU, Brighton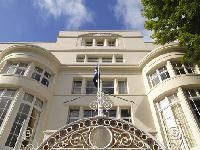 Used to be the Royal York Hotel. Recently refurbished. Radisson BLU - Brighton is the perfect destination if you're looking for a unique, opulent, cosmopolitan hotel in the centre of lively Brighton. The hotel offers a selection of stylish bedrooms and luxurious suites and fully equipped apartments with either sea views or overlooking the Old Steine. Close to the seafront and Brighton's famous Lanes area, the hotel is convenient for all of Brighton's nightlife, shopping and cafe culture.
Opening Times: Hotel is open 24 hours a day. Bar and restaurant times vary.
Telephone: 01273 766 700
Website: www.radissonblu.co.uk/
Email: n/a
Contact name: The manager
Costs:
Please contact the venue.
Getting in and around
Level access:
The grand entrance has very level access, and the large double doors open into the reception area. They have friendly, helpful and confident staff with a good awareness of disability. There is a reasonable sized internal lift, just enough for motorized wheelchairs.
Facilities/Accommodation
Accessible Toilets: There are two accessible toilets on the ground floor.
Rooms Available: Entry to all rooms is with a room card key. Many rooms are wheelchair accessible and of a good size, though others have a few steps to change level. (Originally built in 1771 as houses, the building was converted into a hotel in 1819, hence there are several changes in level.) Room 312, though has a small lip at the door, is specifically designed for disabled people with a shower and bath and accessible toilet. The double bed has just enough side transfer space on both sides. It enjoys a good view of the Old Steine. There are also non-adapted short stay apartments at the top. There are no disabled rooms, not very good access, the front door you have to push, the lift is quiet small and there are a lot of stairs.
Heading Loop: Yes
Getting There
Parking Details:
It has valet parking and disabled parking bays near by. There is a single yellow line directly outside and on-street parking pay and display.
Drop Kerbs:
Outside the hotel.
Old Steine Brighton
BN1 1NH
c

Call ahead
The manager
01273 766 700