Queens Hotel Brighton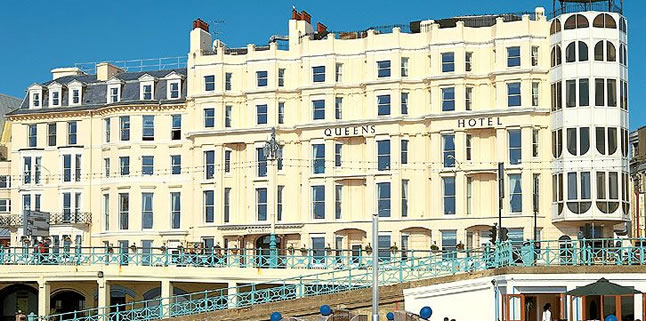 The Queens Hotel is situated conveniently on the seafront just before the entrance to the famous and vibrant Palace Pier. The hotel's central location puts you within easy reach of Brighton's best shops, entertainment venues and golf clubs.
Opening Times: The restaurant will be open for breakfast as normal and will be open evening only on Christmas Eve, Christmas Day and Boxing Day.
Telephone: 01273 221 222
Website: www.queenshotelbrighton.com/
Email: info@queenshotelbrighton.com
Contact name: The manager
Costs:
Please contact the venue.
Getting in and around
Level access:
The main entrance has four steps up to automatic doors and a ramp to the right leading to a door with a bell to reception. Accessibility for wheelchairs and scooters is a bit difficult unfortunately due to a difficult curve in the access ramp.
Facilities/Accommodation
Accessible Toilets: Yes.
Rooms Available: Rooms adapted for disabled guests are all located in one place on the same level, as there are steps throughout the building. The accessible rooms are very large. The toilets in the rooms are totally accessible, but there are no walk-in showers as yet, only the ones above the bath. The card entry is at a suitable height and all the rooms are bright and cheerful with cream carpets and attractive furniture. A large numbered phone is available on request.
Heading Loop: Yes
Getting There
Parking Details:
Parking is not available at the hotel. However, Lanes Car Park is a mere two minutes away on foot.
Drop Kerbs:
N/A.
1, Kings Road Brighton
BN1 1NS
s

My Experience
Staff are very friendly and helpful and have received Disability Awareness Training.