Pizza Express, Brighton Marina.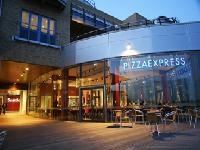 A very popular pizza restaurant in the heart of the marina, with good access.
Opening Times: Monday - Thursday 11.30am - 11pm Friday & Saturday 11.30am - 11.30pm Sunday 11.30am -10.30pm
Telephone: 01273 689300
Website: www.pizzaexpress.com/visit-a-restaurant/restaurant/brighton-marina
Email: n/a
Contact name: The Manager
Costs:
More info at:http://www.pizzaexpress.com/
Getting in and around
Level access:
From the bus stop (outside Macdonalds) look across the road to where a big sign directs you to a double ramp that takes you up to the Boardwalk level. There are also public lifts a little further on past the garage, amongst the shops, and you can use the lift in Hotel Seattle. The entrance is on the right side of the building, with a single door, and then another at right angles to it, which is fixed open.
Facilities/Accommodation
Accessible Toilets: There is an accessible toilet at the rear of the restaurant.
Rooms Available: N/A
Heading Loop: Yes
Getting There
Parking Details:
If you are coming by car, the multi-story car park offers free parking for the day. There are disabled parking spaces on level 6, from which a walkway takes you over to the boardwalk level. There are also disabled spaces on the ground floor.
Drop Kerbs:
N/A
4, The Waterfront Brighton Marina BN2 5WA
BN2 5WA
m

My Experience
The inside was quite crowded when I visited, but manageable. When the outside eating area is in use, it is accessible from inside through doors that open outwards. The restaurant was buzzing the night I visited. There is an a la carte menu and a Piccolo menu for children.
Call ahead
The Manager
01273 689300