Patcham Community Centre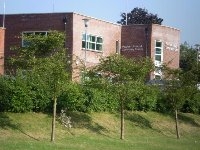 The centre is reasonably accessible, although doors can be tight for larger wheelchairs and the lift is not that big.
Opening Times: Open 7 days a week.
Telephone: 01273 508 376
Website: www.patchamcommunitycentre.org.uk/
Contact name: Alan
Costs:
Please contact the venue or visit their website.
Getting in and around
Level access:
Yes.
Facilities/Accommodation
Accessible Toilets: Yes.
Rooms Available: Yes.
Heading Loop: Yes
Getting There
Parking Details:
The centre has its own car park but this is shared with schools and the library. There are two designated disabled spaces. There is a convenient drop-off point.
Drop Kerbs:
Yes.
School Campus Ladies Mile Road Brighton
BN1 8TA
o

My Experience
The main reception area is not staffed generally but run by volunteers who are confident and friendly. Ground floor has two rooms and a kitchen. 1st floor - the same. There is a small lift which holds eight people or one wheelchair or scooter. Stairs are wide with handrails and have contrast strips. Doors are standard size and can be quite tight for scooters and wheelchairs. The standard toilets are locked and you must ask for a key. The accessible toilets are accessed with a Radar key. There are kitchens on both floors but you must bring own food and drink.
Call ahead
Alan
01273 508 376