Oriental Village Restaurant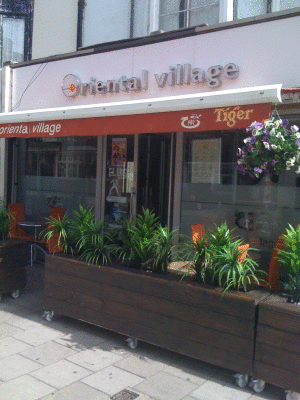 Oriental Village Restaurant offers an excellent range of the most delicious and high quality south east Asian food. It comes recommended as a place to anyone who fancies a High-class yet affordable meal, with enthusiastic service.
Opening Times: Open 7 days a week from 12am to 11pm.
Telephone: 01273 424213
Contact name: The Manager
Costs:
The prices are affordable and by prearrangement, a discount is offered to disabled groups.
Getting in and around
Level access:
Yes
Facilities/Accommodation
Accessible Toilets: Yes
Rooms Available: No
Heading Loop: No
Getting There
85 Boundary Road Hove
BN3 5TD
o

My Experience
There are a few tables outside on the pavement under a big parasol. When the weather is nice it is very pleasant to sit there and watch the busy street while you eat. Inside, there is a mixture of different size tables and between which there is not much space during busy periods, but the staff are happy to help you get comfortable, should you need chairs moved etc. If you ring 2-3 hours before arriving, the staff can reserve an appropriately located table to accommodate wheelchairs e.g. closer to the toilet. The high class team of chefs, friendly staff and the quality of ingredients mixed in the most delightful dishes will make you feel you are in south east Asia but you are in the heart of Hove. A variety of freshly cooked food suitable for vegetarians is available, combined with a relaxed atmosphere, is the perfect setting for exceptional and delicious cuisine. They do delivery orders and a very professional catering service for any kind of event, such as business lunches, corporate meetings, family celebrations, romantic dinners, birthday parties, private dining and wedding ceremonies or receptions.
Call ahead
The Manager
01273 424213