Meadowview Community Centre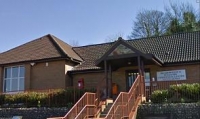 The centre is reasonably accessible with good facilities, including plenty of parking and a bus stop directly outside.
Telephone: 01273 687 563
Contact name: The manager
Costs:
Please contact the venue.
Getting in and around
Level access:
Yes.
Facilities/Accommodation
Accessible Toilets: Yes.
Rooms Available: Yes.
Heading Loop: No
Getting There
Parking Details:
Parking is very good. There are three disabled parking places, one of which is just a few yards from the entrance and 20 other spaces, all off road.
Drop Kerbs:
Yes.
Meadowview Brighton
BN2 4NF
o

My Experience
It is easy to get round inside. The centre has a large bright hall, seating about 60, with a kitchen next to it linked by a hatch. The centre has a regular pre-school group and other activities include art and dance. It takes outside bookings. Because of the type of area, use is more child orientated, but there are plans to involve older residents. The centre is forward looking and always open to change and improvement. It is home to a strong Community Action Group, made up of people keen to improve the area in which they live and the quality of life for all residents. They tackle problems in conjunction with relevant organisations and service providers and have produced an action plan for their ongoing work. It is a a very pleasant place to spend time.
Call ahead
The manager
01273 687 563