Kemp Town Crypt Community Centre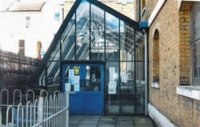 The centre consists of a hall and various rooms in the crypt of St Georges Church, accessed by a lift. Although labyrinthine, it is fairly easy to get around in a wheelchair.
Telephone: 01273 888 444
Email: inthecrypt@msn.com
Contact name: Centre Manager - Chris Ryan
Costs:
The rooms are let out at low rates.
Getting in and around
Level access:
Yes.
Facilities/Accommodation
Accessible Toilets: Yes.
Rooms Available: Yes. There is a nursery with 22 places and the hall is rented out for parties (children only).
Heading Loop: Yes
Getting There
Parking Details:
Sometimes it is possible to park on the gravel drive in front of the church. There are two disabled bays on St George's road on the opposite corner to the church. There are also some in Sudeley Terrace (at the back of the Eye Hospital).
Drop Kerbs:
Yes.
St. George's Church St. George's Road Kemp Town
BN2 1ED
o

My Experience
I was amazed to find that such a thriving community centre dwelt below the 19th Century church. There are about 40 group meetings a week in the hall and rooms: U3A, pilates, dog training, self-help groups including AA, languages, drumming, writing, a great variety. I got a bit distracted by little girls in dance dresses flitting about, arriving for their class :-) I was impressed by the first thing you see when you arrive downstairs, a display which resulted from the Kemp Town oral history project. People's memories of the area are reproduced on beautifully illustrated boards. Also on a historical note, there is still a vault that contains the tombs of the Kemp family, which can be viewed. There is a community cafe Called 7 Bees at St. George's too and is situated in the North Isle of the church, also accessible by the North side door via a small ramp leading to a very flat surfaced church.