Hove Recreation Ground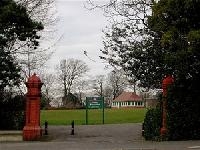 The park is a lovely open space which is used for football, rugby and cricket matches, the pitches have been levelled to the south side.
Opening Times: Open all year round
Telephone: N/A
Costs:
N/A
Getting in and around
Level access:
Yes - The four corners of the park each has open entry/exit. This park is set on a slope, with level pathways to the north and south end and sloping paths on the east and west end of the square perimeter. A path cuts across the middle of the park running east to west and leads to a clubhouse and to public toilets.
Facilities/Accommodation
Accessible Toilets: Yes - There is a RADAR scheme accessible toilet, though this has some tight turns to negotiate the railed ramp. The other toilets each have a small step at their entrance.
Rooms Available: N/A
Heading Loop: No
Getting There
Parking Details:
Yes - There is on street parking in Hove Park Road and in Shirley Drive.
Drop Kerbs:
Yes
On the junctions of Hove Park Road, Shirley Drive and Old Shoreham Road, Hove.
BN3 6QP
o