Possability People AGM 2020
Please join us at our AGM to celebrate International Day of Disabled People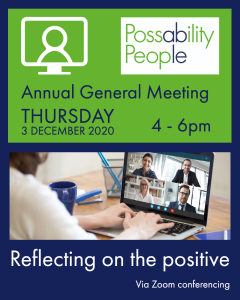 Please join us at our AGM to celebrate International Day of Disabled People
We hope you will be able join us for our Annual General Meeting, as we reflect on the achievements of the past year, and look forward to the next.
4.00pm – 5.00pm
Presentation on the charity's activities over the past year
5.00pm – 6.00pm
Formal business of the AGM, including election of trustees
RSVP by email: hello@possabilitypeople.org.uk
This year's AGM will be held via Zoom. Please RSVP to confirm attendance and to let us know of any access requirements. The link to the meeting will be sent the week before.