Hilda and George
Hilda and George were refused Disability Living Allowance. They came to our advice centre for help.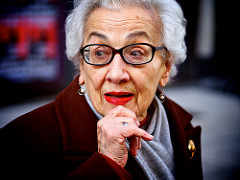 George and Hilda contacted the service as she had been refused Disability Living Allowance (DLA) and they felt the original form had not been properly completed. They hoped to talk it over and get some support.
After asking the Department for Work and Pensions for a reconsideration of the decision they were turned down again. Our advisor suggested they appeal; without this encouragement they said they would have given up on the claim entirely.
After attending a tribunal, Hilda was awarded DLA at the middle rate of care and lower rate mobility. They now feel a lot happier and much less stressed.
Hilda had begun to doubt herself after her claim was turned down. So they were very pleased the advisors they met took a personal interest in them, making them feel listened to.
They have since come back to the welfare benefits service for assistance with claims for Carers Allowance and Employment and Support Allowance.